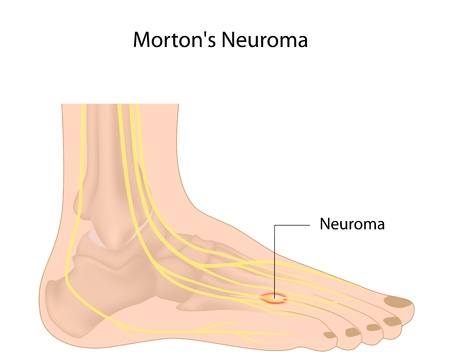 Morton's neuroma is a nerve condition that occurs between the metatarsal bones of the toes. It usually happens between the second and third, or third and fourth toes, and involves a growth around a nerve that makes it feel like you have a pebble in your shoe. As the condition progresses, numbness, tingling, and pain can occur, so be sure to have proper care performed by your foot doctor.
4 of the treatments for Morton's neuroma include the following:
Rest the foot—Reduce or completely stop all stressful activities to the affected foot to relieve stress and pressure on the nerve. Switching to low-stress activities like swimming can help.
Reduce inflammation and pain—Applying a cold pack to the area will help relieve inflammation and ibuprofen or acetaminophen may be taken in moderation to decrease swelling and pain.
Wear properly fitted shoes with custom orthotic inserts—Wear shoes that have a wider toe box to allow your toes to stretch. This will also provide space for orthotics that can redirect pressure away from the nerve that is causing the problems.
Modification of the offending nerve—When conservative treatments such as those above are not providing relief, a modification of the nerve may be required.
If you are experiencing the annoying sensation of having a pebble in your shoe, see your foot doctor for the proper diagnosis and treatment. At Podiatry Center of New Jersey, Dr. Russell Samofal, Dr. Dolan Chowdhury, Dr. Jaclyn Ramirez, Dr. Chris A. Obiarinze, Dr. Eric Freiler, Dr. Owen Morris, and Dr. Meltem Ates treat a variety of conditions such as sports injuries, diabetic foot problems, pediatric foot conditions, toe deformities, arthritis, nail fungus, arch problems, and heel pain. Equipped with advanced technologies and dedicated staff, Podiatry Center of New Jersey provides individualized high-quality care for patients all across Morris, Passaic, Bergen, and Essex counties. For all your foot and ankle problems, contact our Wayne office at (973) 925-4111 for an appointment.