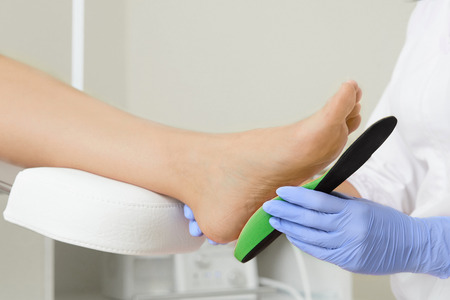 Orthotic shoe inserts are specially fabricated and molded to fit your precise foot shape. When combined with properly fitted shoes, orthotics fix gait problems that can cause knee and back pain. They also redistribute pressure and stress to treat a wide variety of foot and ankle problems, often completely avoiding any surgical intervention down the road.
Orthotic inserts can treat and prevent foot pain and discomfort in the following ways:
By redistributing weight, stress, and pressure—Many foot and ankle problems including Achilles tendonitis, plantar fasciitis, and toe problems like bunions and hammertoes can be treated and minimized with custom orthotic inserts. Gait abnormalities caused by conditions like flat feet can also be addressed. This helps with the alignment of your spine and improves knee, hip, and back functioning.
By avoiding the need for surgery—Using expertly formed and placed orthotics prevents many foot and ankle problems from worsening and avoids the need for future surgery.
While custom made orthotics are more costly than the type you find at a shoe store, the precise fit and placement will more effectively treat your foot and ankle problems. In fact, properly fitted shoes and orthotics also correct problems with your knees, hips, and back.
For help with properly fitted footwear and custom orthotic inserts, consult with your foot care professional. At Podiatry Center of New Jersey, Dr. Russell Samofal, Dr. Dolan Chowdhury, Dr. Jaclyn Ramirez, Dr. Chris A. Obiarinze, Dr. Eric Freiler, and Dr. Meltem Ates treat a variety of conditions such as sports injuries, diabetic foot problems, pediatric foot conditions, toe deformities, arthritis, nail fungus, arch problems, and heel pain. Equipped with advanced technologies and dedicated staff, Podiatry Center of New Jersey provides individualized high-quality care for patients all across Morris, Passaic, Bergen, and Essex counties. For all your foot and ankle problems, contact our Wayne office at (973) 925-4111 for an appointment.