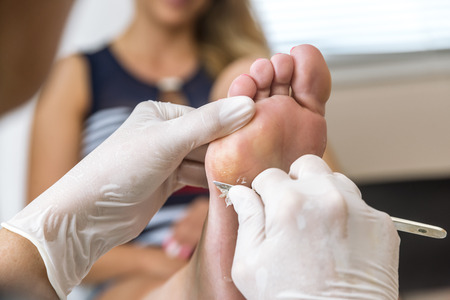 Plantar warts can be very sneaky and can cause severe pain on the bottom of your foot.  You often can't even see them because they hide under a layer of thick skin. They form in the plantar fascia that spans the bottom of your foot, forming the arch. The only signs of the culprit are a small bump under the skin and a lot of pain when you try to walk on the foot.
Plantar warts—as with all warts—are caused by the human papillomavirus which is a very common virus in the environment. Keeping your feet clean and protected in public areas like showers, pool areas, and locker rooms will help limit your exposure to the virus that causes plantar warts.
Some treatments for plantar warts include the following:
Debridement and acid removal—The thick skin covering the wart is carefully removed using a debridement tool. The wart is then gradually melted away with carefully applied acid solution.
Cryotherapy (freezing)— Liquid nitrogen is used to freeze warts and make them easier to remove by breaking them off into large pieces.
Protect your feet—Since warts are caused by a virus they are easily spread from person to person and from foot exposure. Always protect your feet from infection by wearing shower shoes or sandals in public areas like showers and pools. Use antimicrobial sprays and powders on your feet and in your footwear.
It is always a good idea to seek the expertise of your foot doctor in trying to remove any embedded plantar warts to prevent any unnecessary bleeding and discomfort. At Podiatry Center of New Jersey, Dr. Russell Samofal, Dr. Dolan Chowdhury, Dr. Jaclyn Ramirez, Dr. Chris A. Obiarinze, Dr. Eric Freiler, Dr. Owen Morris, and Dr. Meltem Ates treat a variety of conditions such as sports injuries, diabetic foot problems, pediatric foot conditions, toe deformities, arthritis, nail fungus, arch problems, and heel pain. Equipped with advanced technologies and dedicated staff, Podiatry Center of New Jersey provides individualized high-quality care for patients all across Morris, Passaic, Bergen, and Essex counties. For all your foot and ankle problems, contact our Wayne office at (973) 925-4111 for an appointment.