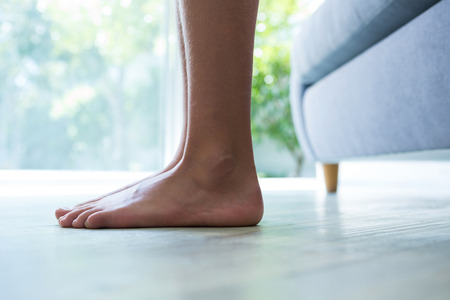 You can determine if you have flat feet by wetting your feet and then standing on a flat, dry surface. If the imprint of your foot is dry in the middle, then you probably have a good arch. If the entire foot falls flat on the floor then you have flat feet and should see your foot doctor. Getting properly fitted with custom orthotic inserts and arch supports will treat and prevent flat feet complications and many other foot problems.
The two primary types of flat feet:
Acquired—The plantar fascia is the wide band of flexible tissue that creates your arch. When this tissue isn't supported properly you can acquire the condition of flat feet. Plantar fasciitis is one type of acquired arch problem that can also create bone spurs in the heel area. When your arch flattens it throws your foot out of alignment and causes radiating pain and other problems throughout the foot and even into your knees, hips, and back.
Hereditary—Being born with flat feet is not always a problem. Some people with flexible flat feet don't have any associated foot or ankle pain and discomfort. The majority of folks, however, can benefit from properly fitted shoes and custom orthotic inserts.
To find out what type of flat feet you have and to ensure proper treatment make an appointment to see your foot doctor. At Podiatry Center of New Jersey, Dr. Russell Samofal, Dr. Dolan Chowdhury, Dr. Jaclyn Ramirez, Dr. Chris A. Obiarinze, Dr. Eric Freiler, Dr. Owen Morris, Dr. Farah Lakhram, and Dr. Meltem Ates treat a variety of conditions such as sports injuries, diabetic foot problems, pediatric foot conditions, toe deformities, arthritis, nail fungus, arch problems and heel pain. Equipped with advanced technologies and dedicated staff, Podiatry Center of New Jersey provides individualized high-quality care for patients all across Morris, Passaic, Bergen, and Essex counties. For all your foot and ankle problems, contact our Wayne office at (973) 925-4111 for an appointment.