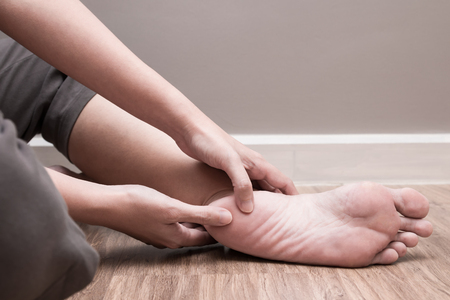 Heel spurs occur when a deposit of calcium causes your bone to stick out. It will occur directly under the heel bone. A heel spur can happen if you wear poorly fitted shoes, have an issue walking, running on unforgiving surfaces, or have diabetes. Flat feet and high arches are two other conditions that can cause this issue as well.
Treatment for Heel Spurs
Stretching exercises—by stretching the foot, you should be able to reduce pain, swelling, and inflammation.
Custom orthotics—a podiatrist will recommend custom orthotics because they are specialized to your foot and its unique issues.
Strapping and night splints—both of these options will keep your foot in the correct position and take pressure off your heel. They will also be able to reduce any swelling and help with the pain.
Physical therapy—a podiatrist will recommend a physical therapist to help you maintain your mobility and strength. Through the exercises, you should experience a significant difference in the pain.
Removal of the spur—if other methods fail, the spur will be removed. That is done to keep you from experiencing pain and allow you to walk more comfortably.
Heel spurs are preventable by wearing the proper shoes. Make sure that your shoes have shock-absorbent soles with support. You will also need to avoid heels and shoes that are worn out. Excessive wear on the heels will mean more pain for you.
At Podiatry Center of New Jersey, Dr. Russell Samofal, Dr. Dolan Chowdhury, Dr. Jaclyn Ramirez, Dr. Chris A. Obiarinze, Dr. Eric Freiler, Dr. Owen Morris, Dr. Farah Lakhram, Dr. Meltem Ates, Dr. Zakiyyah Waters, Dr. Ashley Kim, and Dr. Riddhi Shah are the best team available for any foot or ankle issue. That includes injuries such as arch problems and tendonitis. With eleven offices across Essex, Hudson, Middlesex, Ocean, Passaic, and Union Counties, you will receive high-quality care for any issue you have. Call our office in Wayne, NJ, at (973) 925-4111 for an appointment today.