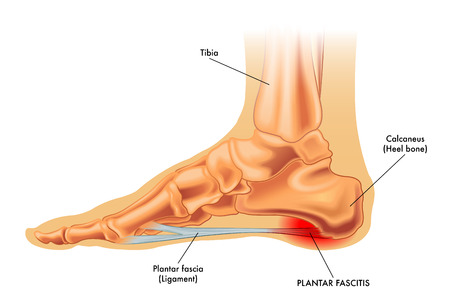 A heel spur forms on the back of the heel from calcium deposits but it is related to an arch condition called plantar fasciitis. When the tendons and ligaments of the arch become stressed during aggressive exercise, sports, and work, the resultant damage causes severe pain that radiates to the heel area. The bony bump that often forms on the heel is not always painful but it can make it difficult or impossible to wear normal shoes.
Two common contributing factors to developing a heel spur include the following:
Poorly fitting footwear and improper arch support—Having the correct arch support for your foot type is essential in preventing any tendon and ligament stress and damage that may be the precursor to the growth of a heel spurs. Have a gait analysis performed to check for pronation problems. Always get your feet properly measured when shopping for new footwear.
Being overweight—The flexibility of the tendons and ligaments decreases with age and carrying around a lot of extra pounds puts extra pressure on your arches and heels and increases the likelihood of developing a heel spur.
If you have a protruding heel spur, consult with our board-certified podiatrists for the proper care. At Podiatry Center of New Jersey, Dr. Russell Samofal, Dr. Dolan Chowdhury, Dr. Jaclyn Ramirez, Dr. Chris A. Obiarinze, Dr. Eric Freiler, and Dr. Meltem Ates treat a variety of conditions such as sports injuries, diabetic foot problems, pediatric foot conditions, toe deformities, arthritis, nail fungus, arch problems, and heel pain. Equipped with advanced technologies and a dedicated staff, Podiatry Center of New Jersey provides individualized high quality care for patients all across Morris, Passaic, Bergen, and Essex counties. For all your foot and ankle problems, contact our Wayne office at (973) 925-4111 for an appointment.