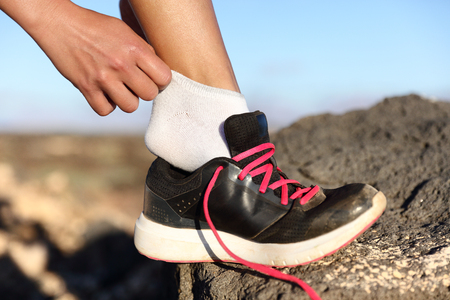 There are certain outfits that some people think you shouldn't wear with socks. Some just don't like wearing them at all. However, socks can save your feet from various problems. Issues like sweating, clammy and damp feet, peeling, cracking, and calluses could all be headed your way if you let the bacteria and fungus grow in your shoes and attack your feet and toes. Not to mention, wearing shoes without socks can cause a very unpleasant smell!
How to Avoid Damage to Your Feet
Switch out your shoes. If you tend to wear one pair of shoes over and over, it is likely that bacteria is growing and spreading inside. Rotate a few different pairs to give your footwear the chance to breathe and dry out.
Keep your feet clean. Keeping your feet clean and dry is essential for keeping them free of fungus and bacteria that will lead to other conditions. To avoid athlete's foot, always dry your toes completely. This is also a helpful tip because the skin is prone to blisters.
Wash out your shoes. Shoes can go in the washing machine. Washing them will ensure that they are clean and completely free of odor and infection-causing bacteria.
Antiperspirant will help. Using antiperspirant will cut down on the sweat, which means your shoes won't become damp. This will help your feet stay healthy.
While it can be fun to go without socks, it isn't worth having smelly feet. If you must go without socks, opt for a pair of sandals. Summer is a great time to let your feet breathe and soak up the sun. Just don't forget the sunscreen!
At Podiatry Center of New Jersey, Dr. Russell Samofal, Dr. Dolan Chowdhury, Dr. Jaclyn Ramirez, Dr. Chris A. Obiarinze, Dr. Eric Freiler, Dr. Owen Morris, Dr. Farah Lakhram, Dr. Meltem Ates, Dr. Zakiyyah Waters, Dr. Ashley Kim, and Dr. Riddhi Shah are the best team available for any foot or ankle issue. This includes injuries such as arch problems and tendonitis. With eleven offices across Essex, Hudson, Middlesex, Ocean, Passaic, and Union Counties, you will receive high-quality care for any issue you have. Call our office in Wayne, NJ, at (973) 925-4111 for an appointment today.