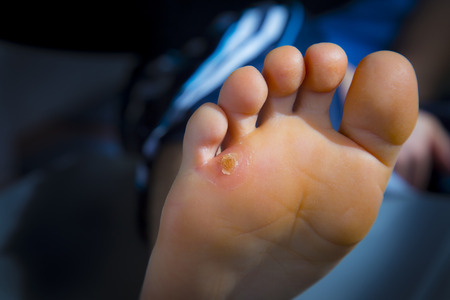 If you have older family members, the chances are high that you have seen corns before. Thick and complex, they develop as your body's protective measure against pressure or friction. For healthy people, treatment only needs to be performed if you experience pain or discomfort. People with diabetes, however, will need to be careful as corns will be a common occurrence. Because diabetics must be extremely cautious, you should never try to rid yourself of the problem on your own as it can be dangerous.
Factors That Can Lead to Corns
Forgetting your socks—when you don't wear socks with shoes, you cause friction on your feet. That causes rubbing, and the combination will lead to corns.
Wearing the wrong shoes—high heels can cause corns, though any tight shoe can make them appear. You also must be careful of loose shoes as your foot will slide and cause unnecessary rubbing.
Hammertoe—a hammertoe occurs when your toe has an unnatural bend. Because you are pressing down on your toe and adding pressure, most patients experience a corn that becomes painful.
Bone Spurs—a bone spur is another issue that can cause painful corns. However, the problem here is that you may find it difficult to tell if you are feeling pain from the spur or the corn. Thankfully, a podiatrist will be able to help with both.
At Podiatry Center of New Jersey, Dr. Russell Samofal, Dr. Dolan Chowdhury, Dr. Jaclyn Ramirez, Dr. Chris A. Obiarinze, Dr. Eric Freiler, Dr. Owen Morris, Dr. Farah Lakhram, Dr. Meltem Ates, Dr. Zakiyyah Waters, Dr. Ashley Kim, and Dr. Riddhi Shah are the best team for any issue that occurs in the feet and ankles. This includes injuries such as arch problems, Athlete's foot, and arch issues. With eleven offices across Essex, Hudson, Middlesex, Ocean, Passaic, and Union Counties, you will receive high-quality care for any problem you have. Call our office in Wayne, NJ, at (973) 925-4111 for an appointment today.