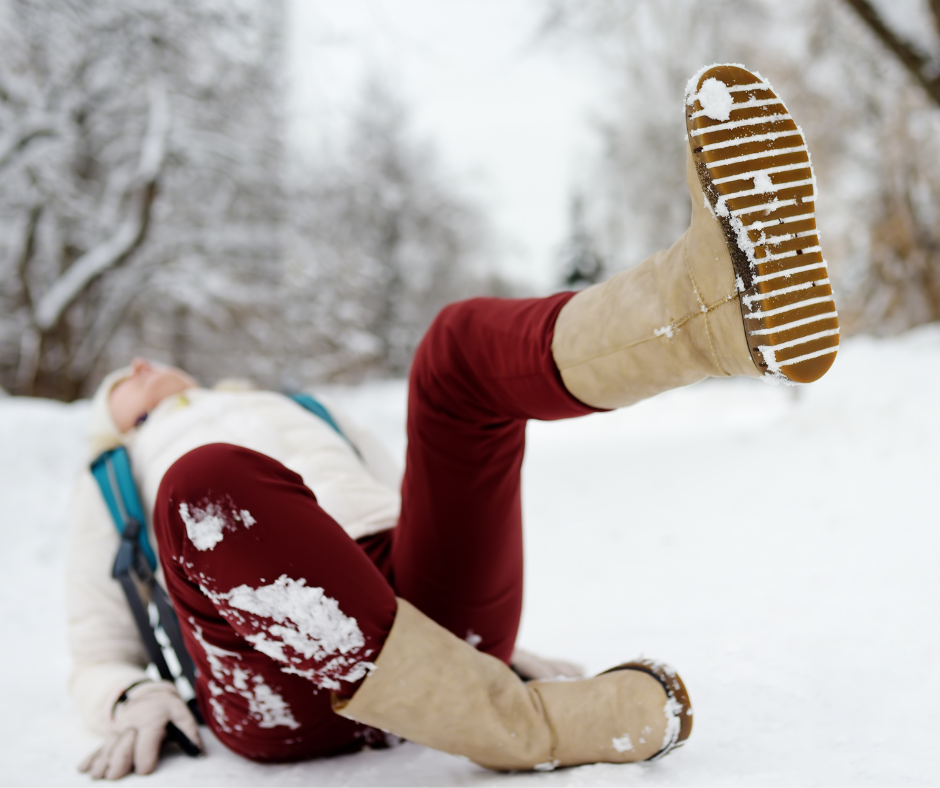 At Podiatry Center of New Jersey, we see a big increase in ankle sprains, fractures, and other podiatric injuries caused by falls. Winter weather and slippery walkways are the primary cause. While you can't change the weather, you can take precautions to lower your chances of taking a tumble. Don't be one of the people in the following scenarios:
The Holiday Fashion Statement—Sensational Sally would never dream of going to a party in anything less than a beautiful pair of high heels that perfectly coordinates with her festive attire. So, what if there's sleet and slush on the ground from yesterday's storm? She's just going to go a few feet from her car to the front door—she won't possibly fall during such a short walk.
The Man Who Can Carry it All—Strongman Sam can carry groceries, gifts, and holiday treats and get it all inside in just one trip. Unfortunately, to do so, he is unable to see the sidewalk in front of him and the icy patch that's formed right where he's about to step.
The Busy Bee with Too Much on the Mind—Frazzled Fran forgot her gloves in her hurry to leave the house. It's freezing out and she has to run into the store to pick up egg nog for the office party. Fran also forgets that rushing increases your risk of falling and having your hands in your pockets means they are not available to help you steady yourself and maintain your balance.
The Person Who Will Do Anything to Avoid Embarrassment—Blushing Bill didn't see the snow-covered curb and down he went. Even though there's an excruciating pain in his ankle, he jumps up as fast as he can—possibly adding a fracture to his already bad sprain.
Hopefully, our message is clear: wear the appropriate shoes for the weather, don't carry so much that you can't see where you're going, slow down and take your time getting up if you do fall.
If you experience a foot or ankle injury this winter, contact us immediately and try to stay off the injured foot until your appointment.
At Podiatry Center of New Jersey our team of doctors treat various conditions such as sports injuries, diabetic foot problems, and pediatric foot conditions, toe deformities, arthritis, nail fungus, arch problems, and heel pain. Equipped with advanced technologies and dedicated staff, our 16 conveniently located offices provide individualized high-quality care for patients across Essex, Hudson, Middlesex, Ocean, Passaic, and Union Counties. For all your foot and ankle problems, contact our Wayne, NJ office at (973) 925-4111 for an appointment.