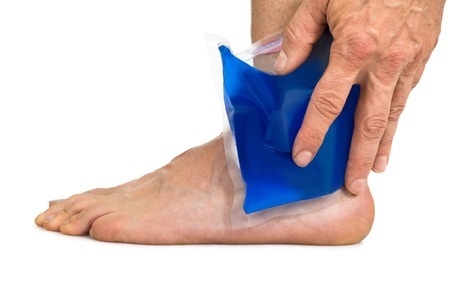 Coming down sideways on your foot while playing sports or absentmindedly rolling your foot while stepping over a curb are two of the many ways that you can twist your ankle. These actions can cause a severe, debilitating ankle sprain. The ankle joint is a complicated piece of engineering comprises many tissues, ligaments, and tendons.
When these components become severely stretched or even torn, severe pain, swelling, and immobility will often be the result. Improperly-treated ankle sprains are likely to become injured again, leading to a chronically unstable ankle, so always see your foot doctor for the proper treatment and recommendations.
To properly treat ankle sprains:
To avoid any future complications—An ankle sprain that isn't allowed to heal properly can result in chronic ankle instability and weakness. This can make you more likely to sprain your ankle again. Always treat even minor ankle sprains seriously and slowly increase the strength and flexibility of the ankle joint with physical therapy exercises recommended by your foot doctor.
To avoid a misdiagnosis—An ankle sprain can also mimic other injuries which is why you should always have an evaluation done by your podiatrist to rule out a fracture or other problem.
Treatment for ankle sprains
Immediately following an ankle sprain, seek rest, ice, compression, and elevation (the RICE method) to avoid further injury. Ibuprofen can be taken to reduce swelling and pain. A rigid boot may have to be worn to immobilize the ankle during the healing process. After the boot comes off, a comprehensive physical therapy and strengthening program will be required for proper healing and to avoid another injury.
If you need help with a sprained ankle, see your podiatrist right away. At Podiatry Center of New Jersey, Dr. Russell Samofal and Dr. Dolan Chowdhury treat a variety of conditions such as sports injuries, diabetic foot problems, pediatric foot conditions, toe deformities, arthritis, nail fungus, arch problems, and heel pain. Equipped with advanced technologies and a dedicated staff, Podiatry Center of New Jersey provides individualized, high-quality care for patients all across Morris, Passaic, Bergen, and Essex counties. For all your foot and ankle problems, contact our Wayne office at (973) 925-4111 for an appointment.