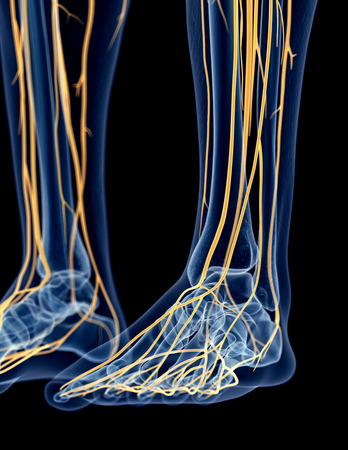 Your nerves bring feeling and motor function to your body by way of signals that pass through the brain and spinal cord. When the nerves in your feet are adversely affected by one or more of a variety of conditions, peripheral neuropathy can develop causing numbness, pain, and a tingling sensation that are often the first symptoms of diabetes.
Symptoms of peripheral nerve damage in your feet
Abnormal sense of feeling—The nerves responsible for feeling and sensation in the extremities are compromised and the primary symptoms will be numbness, burning, and pain.
Gradual expansion of affected areas—These symptoms begin gradually and often start in the hands, toes and feet and move to other areas as the condition progresses. Your skin can sometimes be very sensitive to touch, or, conversely, there can be a total lack of feeling. This can be very bad for diabetic patients.
Weakness and paralysis—When the motor nerves are damaged, progressive weakness and paralysis of the corresponding muscles occur causing them to weaken.
Damage to the nerves in your feet can result from many causes. Ten of them include the following:
Complications from diabetes
Side effects of certain medications
Uremia
Acquired immune deficiency syndrome
Mineral and vitamin deficiencies
Various types of arthritis including rheumatoid and osteoarthritis
Circulation disorders like peripheral artery disease
Radiation exposure
Toxic chemical exposure
Lupus
If you are experiencing nerve pain, numbness, and tingling in your feet see your foot doctor for the proper care. At Podiatry Center of New Jersey, Dr. Russell Samofal and Dr. Dolan Chowdhury treat a variety of conditions such as sports injuries, diabetic foot problems, pediatric foot conditions, toe deformities, arthritis, nail fungus, arch problems and heel pain. Equipped with advanced technologies and a dedicated staff, Podiatry Center of New Jersey provides individualized high-quality care for patients all across Morris, Passaic, Bergen and Essex counties. For all your foot and ankle problems, contact our Wayne office at (973) 925-4111 for an appointment.