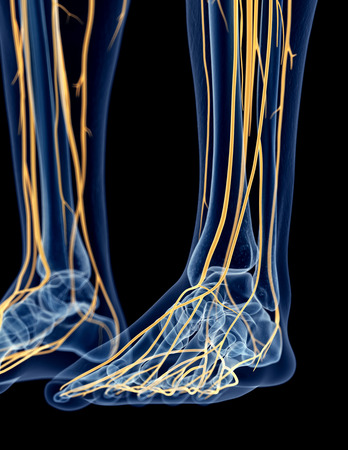 While this condition may be referred to as a nerve tumor, a neuroma is actually caused by swelling of the delicate tissue surrounding the nerve.  In the case of a foot neuroma, this condition affects nerves that supply your toes, so you will often feel tingling and numbness in your toes and the ball of the foot. The range of sensations can go from being totally numb to a stabbing pain. The symptoms of a neuroma can be similar to other conditions like stress fractures, so be sure to see your foot doctor for the right care.
In some instances, a neuroma can be detected by your podiatrist during a physical exam. This can then be confirmed with an ultrasound.
Treatment for a foot neuroma may consist of the following:
Properly fitted shoes—Have a computerized gait analysis done by your foot doctor so you can get the proper shoes that have the correct arch support for your foot type.
Custom orthotic shoe inserts—These specially made inserts can be used to isolate the area of the ball of the foot and allow healing to occur.
Steroid treatments—Injections of corticosteroids can greatly reduce or eliminate pain.
If you are exhibiting signs of a painful foot neuroma, see your foot doctor for proper diagnosis and treatment. At Podiatry Center of New Jersey, Dr. Russell Samofal and Dr. Dolan Chowdhury treats a variety of conditions such as sports injuries, diabetic foot problems, pediatric foot conditions, toe deformities, arthritis, nail fungus, arch problems and heel pain. Equipped with advanced technologies and a dedicated staff, Podiatry Center of New Jersey provides individualized high-quality care for patients all across Morris, Passaic, Bergen and Essex counties. For all your foot and ankle problems, contact our Wayne office at (973) 925-4111 for an appointment.