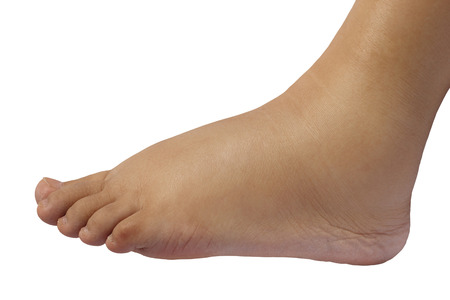 Many different conditions can contribute to swelling in the feet and ankles and it is often an indication of a serious problem, but it could also happen from just sitting still in one place for too long such as during a long plane, bus, or boat trip. Try to get up and move around several times during the journey to improve circulation and avoid fluid retention in the extremities.
5 of the more common causes of swelling in the feet and ankles may include the following:
Ankle sprains and foot injuries—Twisting and spraining your ankle can lead to severe pain, discomfort, and a great deal of swelling even for a minor sprain.
Edema—Fluid retention in the soft tissues underneath the skin is called edema. While swelling may increase with age-related conditions like arthritis, it can also be caused by consuming too much salt in your diet.
Systemic diseases—Diseases of the kidneys, liver, heart, and lungs can contribute to swelling in the feet. Circulation problems caused by artery disease can also cause fluid retention.
Being severely overweight—Carrying around a lot of extra pounds puts extreme stress and pressure on your feet and ankles increasing swelling and the chance of injuries.
The side effects of certain medications—Many medicines such as antidepressants, steroids, blood pressure meds, and hormone replacement therapies can increase fluid retention and swelling in the extremities.
If you experience foot and ankle swelling that doesn't subside after a few days, you should see your foot doctor for an evaluation. At Podiatry Center of New Jersey, Dr. Russell Samofal, Dr. Dolan Chowdhury, Dr. Jaclyn Ramirez, Dr. Chris A. Obiarinze, Dr. Eric Freiler, and Dr. Meltem Ates treat a variety of conditions such as sports injuries, diabetic foot problems, pediatric foot conditions, toe deformities, arthritis, nail fungus, arch problems and heel pain. Equipped with advanced technologies and a dedicated staff, Podiatry Center of New Jersey provides individualized high quality care for patients all across Morris, Passaic, Bergen and Essex counties. For all your foot and ankle problems, contact our Wayne office at (973) 925-4111 for an appointment.